The Pasadena Ice Skating Center offers a variety of group lessons for all ages and ability levels. Each class is a step-by-step progression that develops each skater as they improve their skating skills. Skaters must successfully complete the current level before they can graduate to the next class level.
Current Semester
/ Fall 2023 (September 20 – November 19)
Fall 2023 (September 20 – November 19)
Future Semesters
Winter 2023 – Registration OPEN (11/2)
(November 29, 2023 – February 11, 2024)
How do I cancel a class and request a refund or credit?
To request any refund or credit for a 9-10 week class, a Refund Request Form must be received by the 5th week of the current class semester. For a 5-week class, the form must be received before the 3rd class.
Credit/refunds will be calculated based on the date on the Refund Request Form.

Credit will be issued for the remaining classes and can be used for a future semester.

Refunds are issued only by company check regardless of payment method and it can take 4-6 weeks to process your request. There is a $25 administration fee for each refund request that will be deducted from the remaining balance due.
Freestyle sessions allow advanced figure skaters to practice jumps, spins, and programs on the ice. Sessions are offered Monday – Friday throughout the year, and on Saturdays during July and August. These Freestyle sessions are only for figure skaters who have reached the ISI Delta level or higher. Lower level skaters are not allowed on freestyle sessions.
All skaters must complete session registration on a first-come basis. Online pre-registration and on-site registration available. (Check with rink for registration availability)

All skaters must check-in with rink staff before entering the ice for each session.

All skaters must follow the session guidelines posted at the rink.

Additional skaters cannot be added once a session is full – no exceptions.

Maximum 30 skaters per registration.
Skater
(Online Pre-Registration)
$18 /per session
Skater
(On-Site Registration)
$23 /per session
Freestyle Session Schedule & Price is Subject to Change.
How do I cancel registration and request a refund or credit?
Refund or credit must be requested before the start of the registered session to the rink's Office Manager.
The Pasadena Ice Skating Center coaches conduct private lessons for skaters of all ages and ability levels. Private lessons – along with regular practice –improve individual skating skills. The Pasadena Ice Skating Center's independent contractor coaches manage their own lesson schedule and use our facility to teach their lessons.
Only 1-on-1 private lessons are allowed to practice basic skating skills – no racing.
Lesson fees are paid directly to the coach.

Session admission fee must be paid to the rink for each public and/or Freestyle session.

Skaters currently enrolled in a skating school group class can arrange a private lesson on their class day or during their free practice session to avoid additional admission fee charges.
Figure skating coaches at the Pasadena Ice Skating Center organize and conduct summer camps designed to promote fun while improving the skating skills of each skater while making new skating friends. Registrations information will be available soon.
The Pasadena Ice Skating Center is very proud of the Rose City Crystals synchronized skating teams. This non-profit organization is dedicated to promoting teamwork and sportsmanship while helping each team member reach their full potential. The cooperation and support from the skaters, coaches, and parents help to create a memorable skating experience for every participant.
Each team of eight to sixteen skaters works to improve their individual skating skills while learning to master synchronized skating formations such as lines, circles, wheels, blocks, and intersections. These skills are showcased in an entertaining routine as they compete with teams of similar ages and ability levels.
One of the USFS competitive teams was the 2018 Pacific Coast Sectional Open Juvenile Champions and they have competed for many years at the U.S. Synchronized Skating Championships.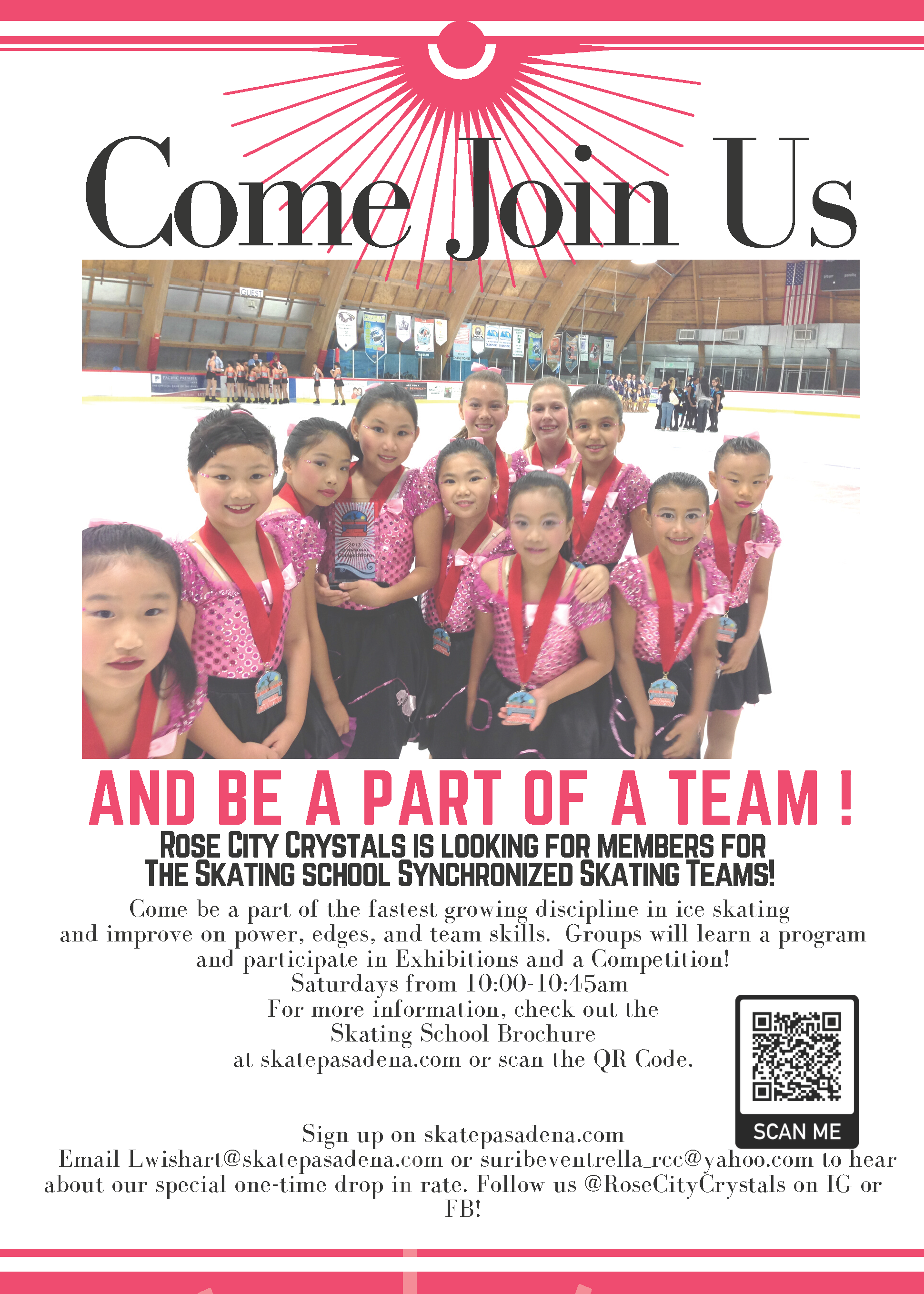 The Pasadena Ice Skating Center's ISI competitive teams have a weekly practice as part of our skating school group classes. These teams have consistently won local, regional, and ISI national events. We are looking for skaters of all ages, Pre-Alpha or Tot 4 and up, to participate in our new synchro basic skills team.
The Pasadena Ice Skating Center's rink has a very long history of hosting local, regional, sectional, and national competition events.
We are happy to announce our 37th Pasadena ISI Competition April 28-30, 2023, one of the largest and longest-running annual competition events in SoCal. Over 450 skaters participate in this 3-day event that showcases entertaining performances by skaters from three to 83 years old. This event is usually the last weekend of April.
In the middle of September, the Pasadena Figure Skating Club hosts their annual, local event. Those events have seen future national and Olympic team members preparing for upcoming qualifying competitions. In addition, the Pasadena Ice Skating Center has hosted the Southwest Pacific regional championships; two adult sectional championships; and most recently, a regional collegiate championship.