The Pasadena Ice Skating Center (PISC) has been located in the Pasadena Convention Center since 1976. Originally constructed in an historic exhibition hall, our new facility opened in September of 2011.
The new PISC facility is an NHL regulation size rink (200'x85') with 4 team rooms, skate rental, party room, vending machines, pro shop, and administration office.
We continue to provide year-round recreational skating activities for skaters of all ages and ability levels. We have daily public sessions and learn-to-skate group classes for both hockey and figure skating throughout the year.
Our facility is home to the Pasadena Maple Leafs youth hockey association, Pasadena Figure Skating Club, and the Rose City Crystals synchronized skating teams. We have over 30 adult hockey teams in 4 division levels for our in-house league. We also regularly schedule skating and broomball rentals, school field trips, fundraisers, company rentals, and film/television/commercial shoots.
Schedule and prices are subject to change. Please check our website for the current schedules or give us a call.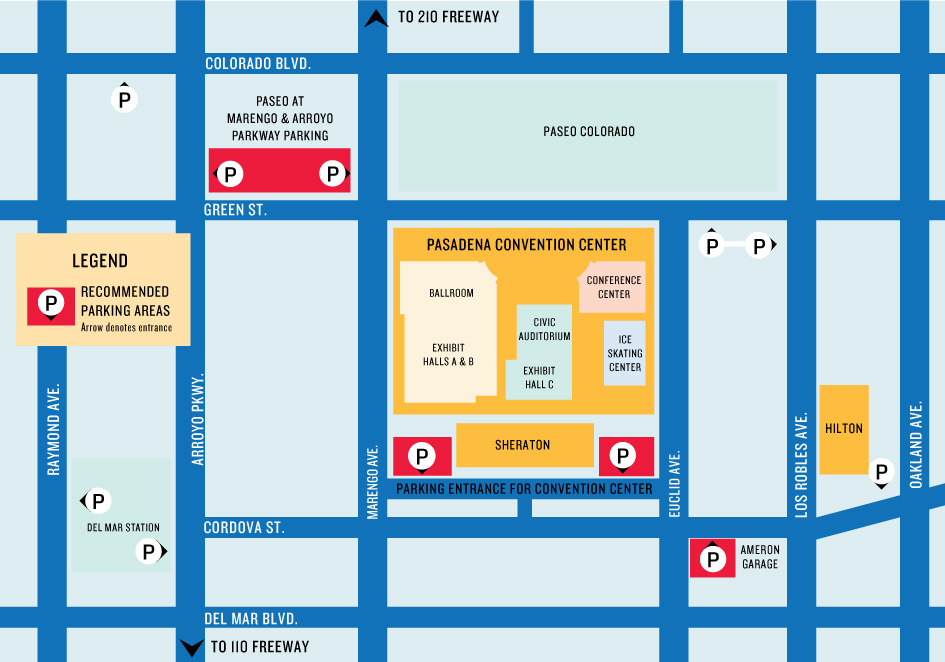 On-site parking costs $15 a day for up to 16 hours. Parking tickets are for one entry only and are not valid for in and out parking.

The parking structure has a height restriction of 6' 6".

There are 8 EV charging stations available for electric cars. The stations can be used for the duration of your visit.

Vehicles in excess of 18 feet in length will be charged twice the daily rate per entry
There are several options for parking around our facility. We offer discount validation for the lot on the Southeast corner of Euclid and Green streets.
The Pasadena Ice Skating Center hires responsible and enthusiastic individuals who enjoy working in a unique business environment with a variety of customers an average of 20+ hour a day.
The application and hiring process is coordinately by the human resource department of the Pasadena Center Operating Company who manages the convention center complex. An employment application can be downloaded from the link below and forwarded to our Human Resources department.
Pasadena Ice Skating Center General Manager
Rate: $80,000 to $100,000
PRIMARY ACCOUNTABILITIES:
The general manager oversees and manages all aspects of the Pasadena Ice Skating Center operations. This includes supervising staff & coaches, rink maintenance, ice maintenance, and refrigeration equipment operation. They manage outside purchasing, service contracts and contractors. A key aspect of their day-to-day responsibility involves troubleshooting facility equipment emergencies including dealing with refrigeration equipment failures and Zamboni breakdowns.
In addition, they handle customer issues or complaints; prepare and manage staff work schedule. The successful candidate must be organized, be customer service oriented, and demonstrate an aptitude for financial management. The ideal candidate takes responsibility, shows initiative, adapts to change, and works well with others.
Provide supervision and training on all operational aspects of the ice rink. Ensure that the maintenance of the ice rink facility, ice quality, pro shop, grounds and equipment are in good working order, clean and in proper condition appropriate for a first-class facility.

Establish consistent performance standards for the ice rink staff; evaluate the performance of each employee against the established standards; and make recommendations to improve standards.

Help prepare budget and manage department revenue while keeping expenses within budget.

Staff interviews and staff training.

Prepare & approve bi-weekly payroll.

Negotiate and prepare annual ice time rental agreements and monthly invoices.

Manage outside service contracts and contractors.

Develop and update operation manuals.

Ensure OSHA compliance, including developing, updating, and maintaining those systems.

Manage facility equipment emergencies, including ice plant failure and coordinate repairs.

Must be available to work a flexible schedule, including weekends, evenings, and holiday hours may be required as schedule dictates.
High school diploma or GED equivalency.

Minimum of five (5) years of experience in the management of an ice rink which includes facility and ice maintenance and operations, Zamboni operation, program administration and staff supervision.

Must be reliable, consistent, organized, efficient, motivated and professional.

Proficient with Microsoft Office, Excel, or related software.

Familiarity with point-of-sale (POS) system (MaxGalaxy) is a plus.